Customer Reviews
09/18/2019
H.
United States
Amazing customer service.
When my items arrived in the mail, they were the wrong colors, and the ring was rose gold instead of the silver that I ordered. So I sent a message to Sunflower Jewels to tell them what happened. They very quickly took care of the problem and by about 10 days the right jewelry showed up with no extra charge and I didn't have to return the other jewelry! My girlfriend loves the sunflower necklace and I'm going to be giving her the ring on our 2 year anniversary this month. She is sure to love that one too!
09/17/2019
Ariel T.
United States
Rose Ring
I was honestly a little skeptical if this was a real site and not just a scam because I originally saw Sunflower Jewels as an Instagram ad. Naturally, I was a little skeptical at first but I decided to give it a try and buy this ring. Let me just say, I have not regretted my purchase and this ring is BEAUTIFUL. It was exactly what I wanted. Shipping was pretty fast, it came in a little under a week (I live on the East Coast, if that helps). The packaging was adorable too. Overall 10/10 and would buy again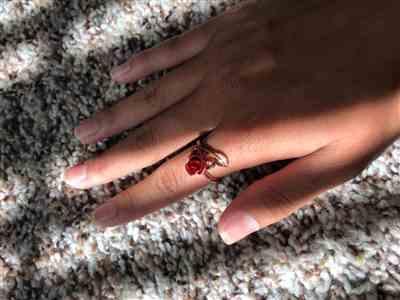 06/11/2019
Jocelyn M.
United States
Great item!|Rose Ring|
It looks just like the picture and I was very satisfied with the outcome of my purchase. I experienced no problems with the delivery of the item and I'm very pleased with it. It was overall a very good purchase, I'd definitely buy from here again!
06/06/2019
Gabriella D.
United States
OBSESSED Gold style
LOVEEEE THIS RING. only problem i had to wait for it LOL it was on preorder so other then that i loveeeee this so much. I'm obsessed with beauty & the beast so it was amazing to find this and have it for my self. Even got one in silver for my Bestfriend
05/02/2019
Jessica W.
United States
Pretty
Excellent service and my niece loved her ring